Happy Holidays!! 
We went all out on Halloween this year with 
3 big projects back-to-back in one weekend,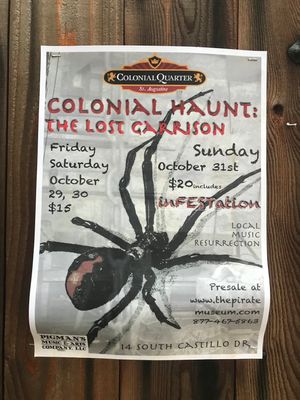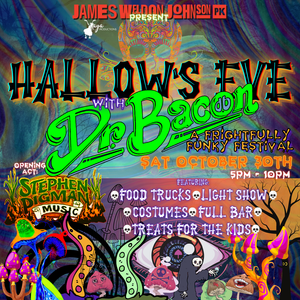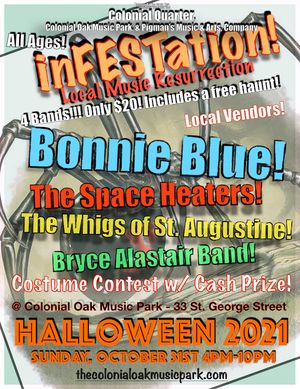 then we started planning our Thanksgiving meal 
(a "fajita-stuffed turkey" was mentioned),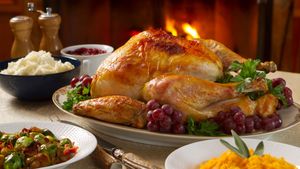 put up our Christmas tree,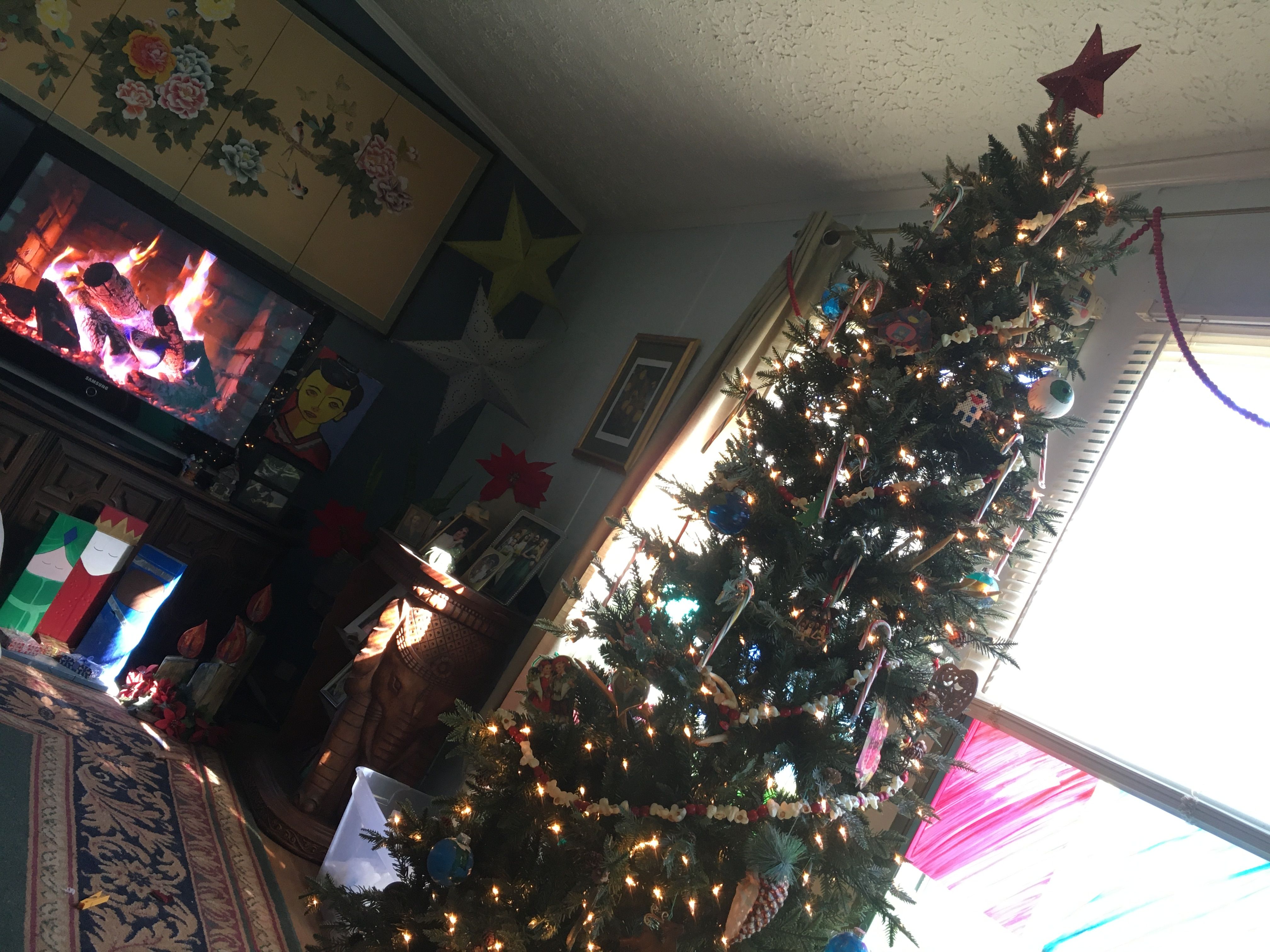 AND watched The Muppet Christmas Carol the very next day.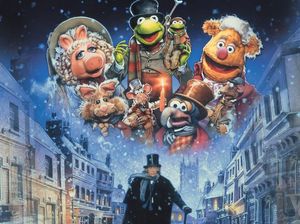 We're ready. 
*    *    *    *    * 
Our Colonial Haunt: The Lost Garrison 
event on Halloween weekend was EPIC!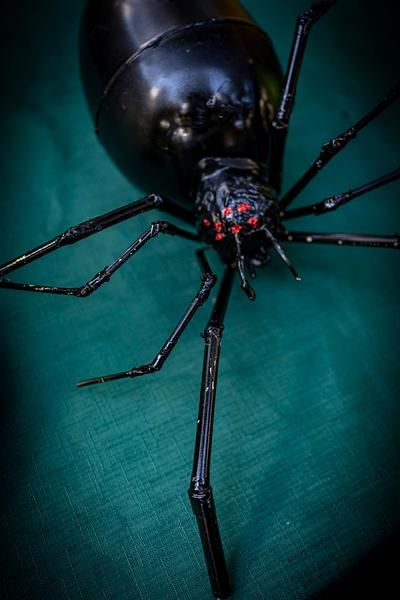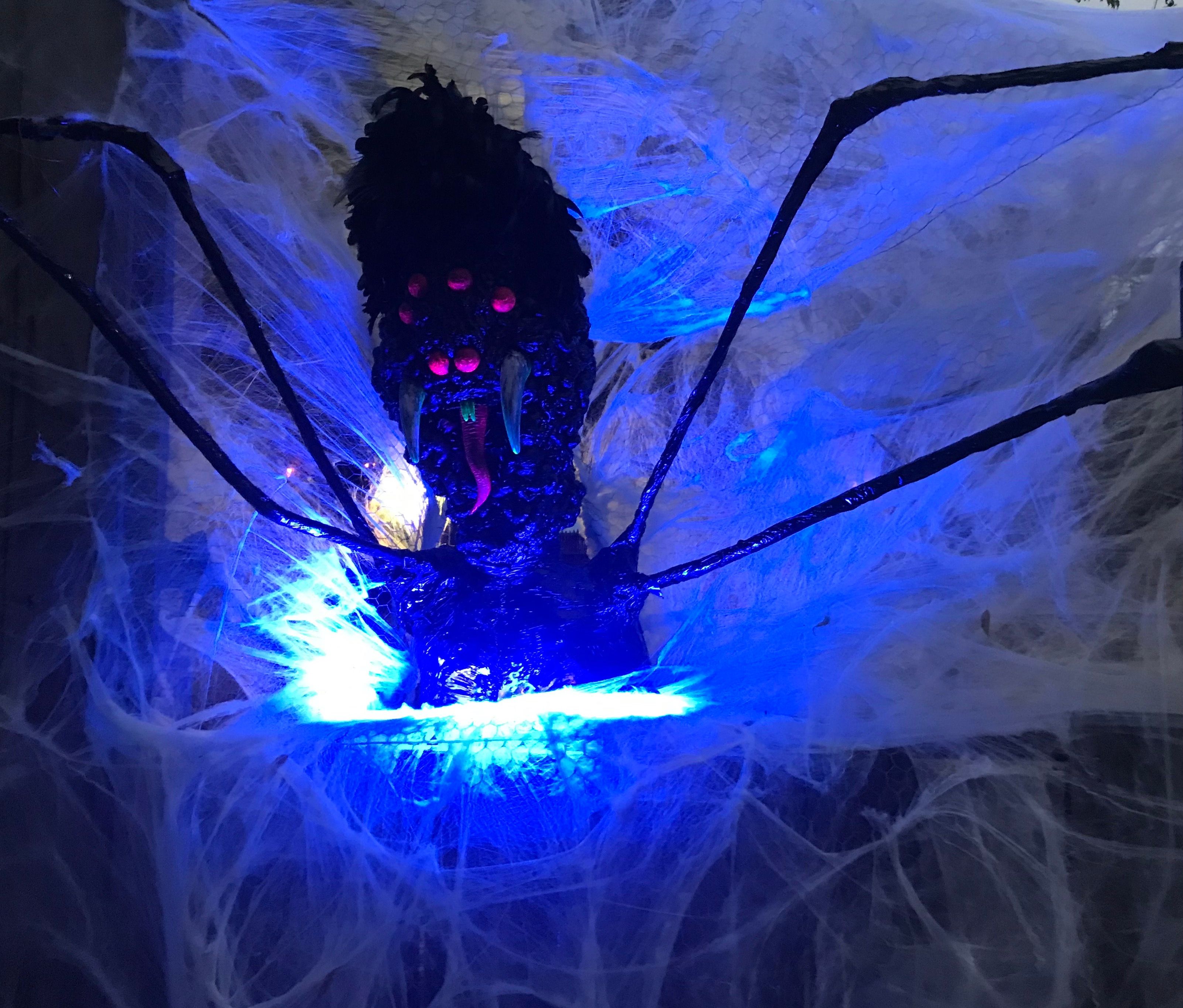 We built webs and floors traps 
all around the museum's campus. . .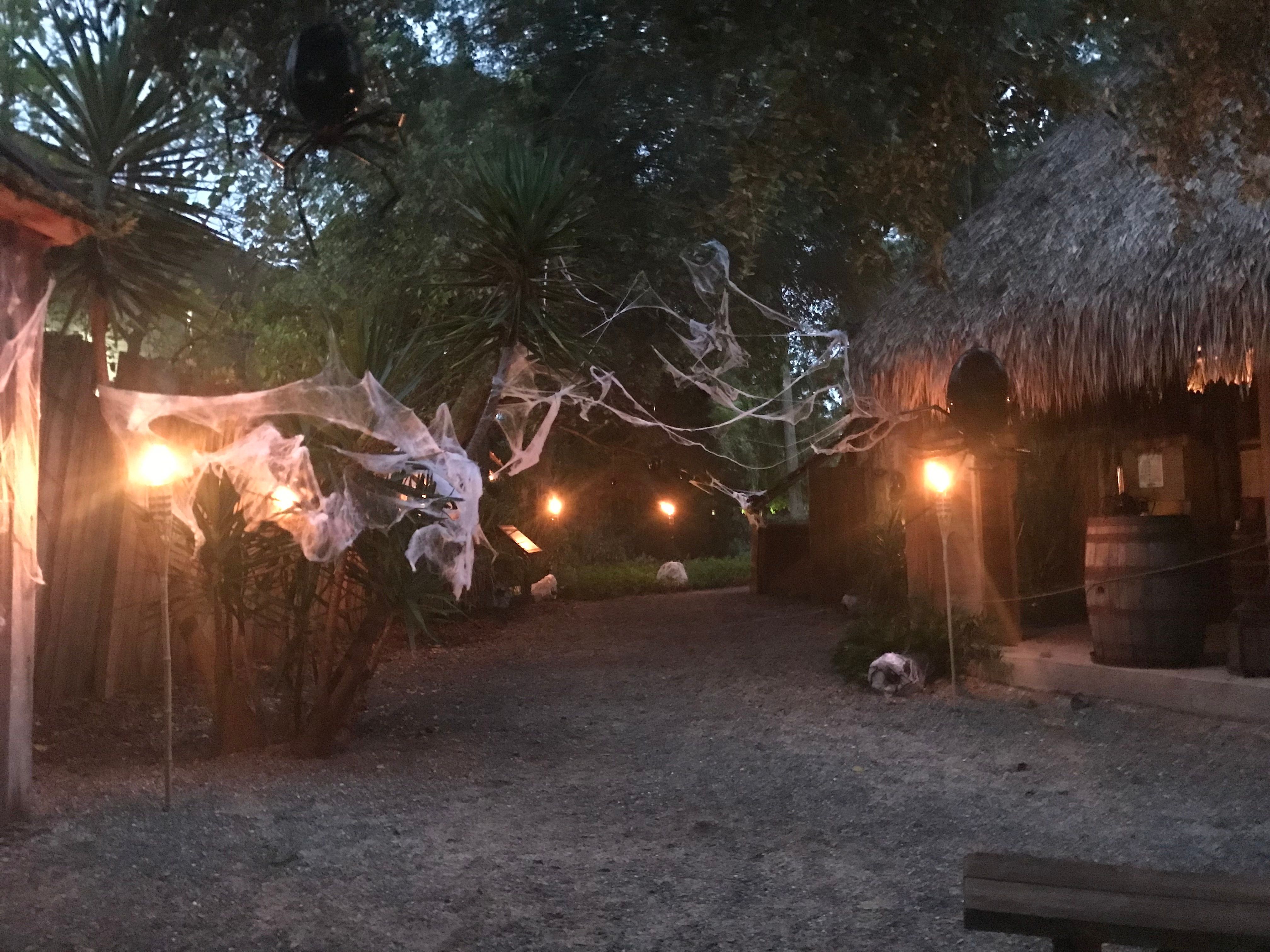 We placed 100 handmade spiders 
throughout the grounds. . .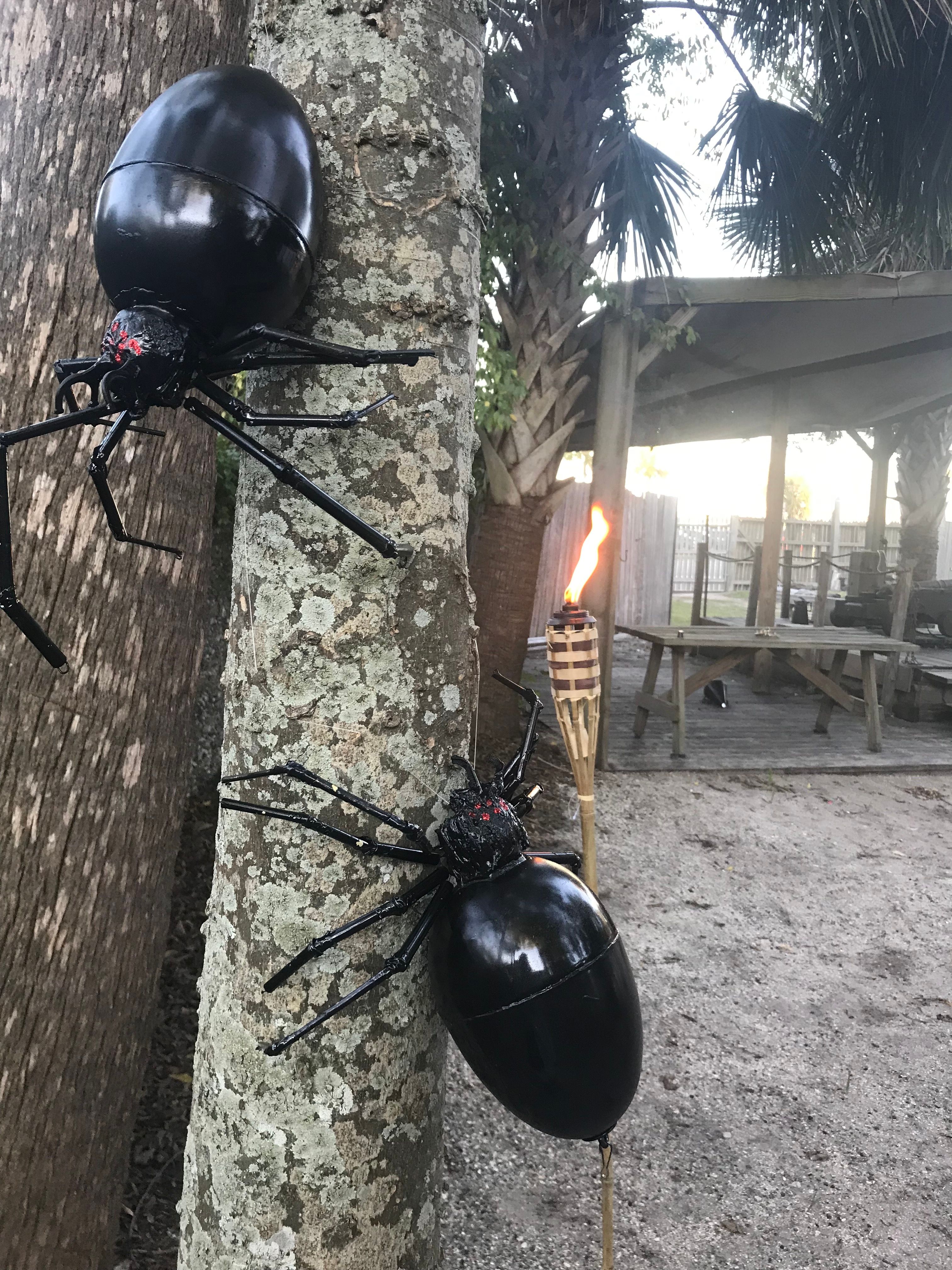 We hung bodies in the Victim's Forest. . .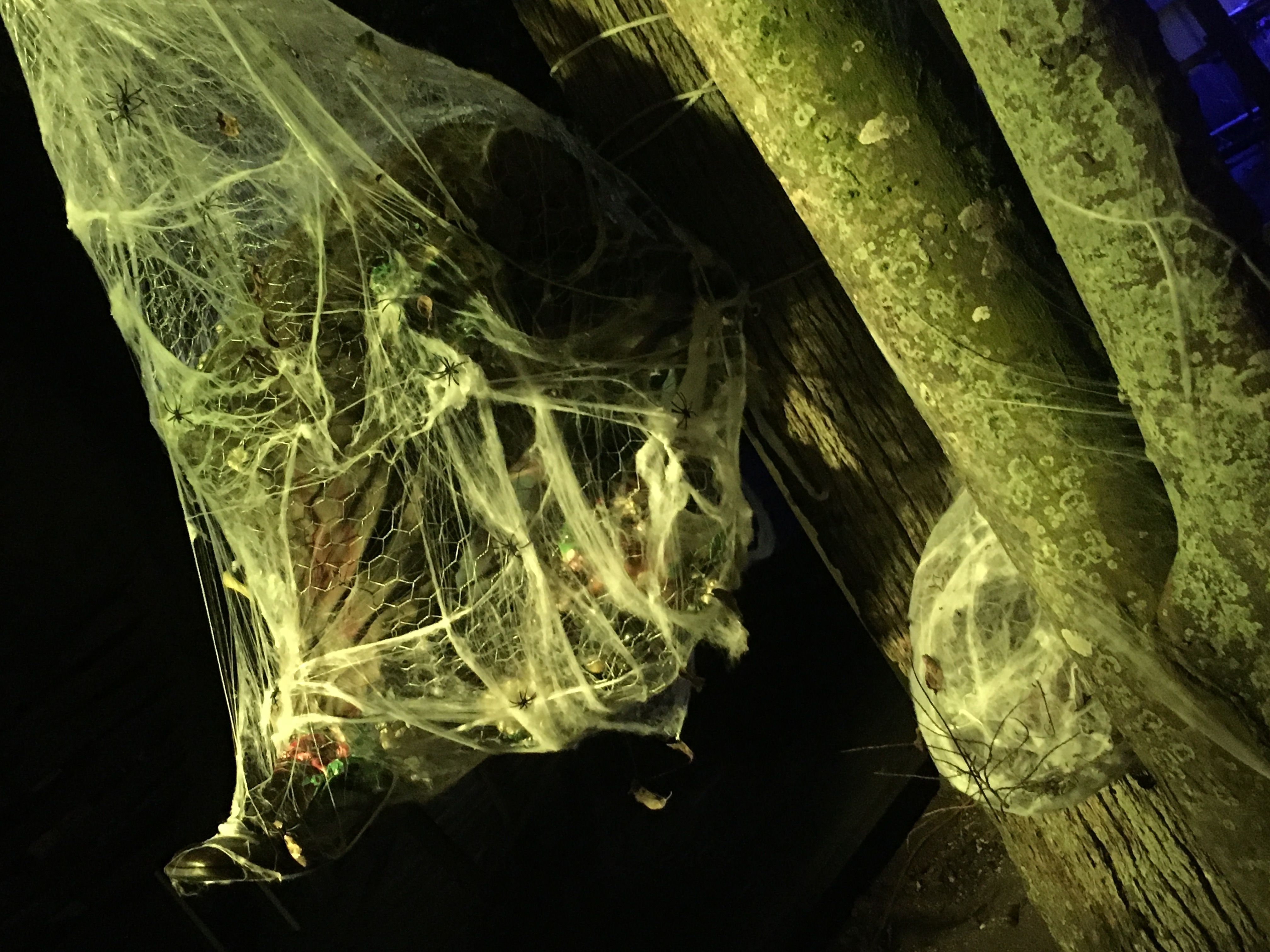 and placed Mother in her web!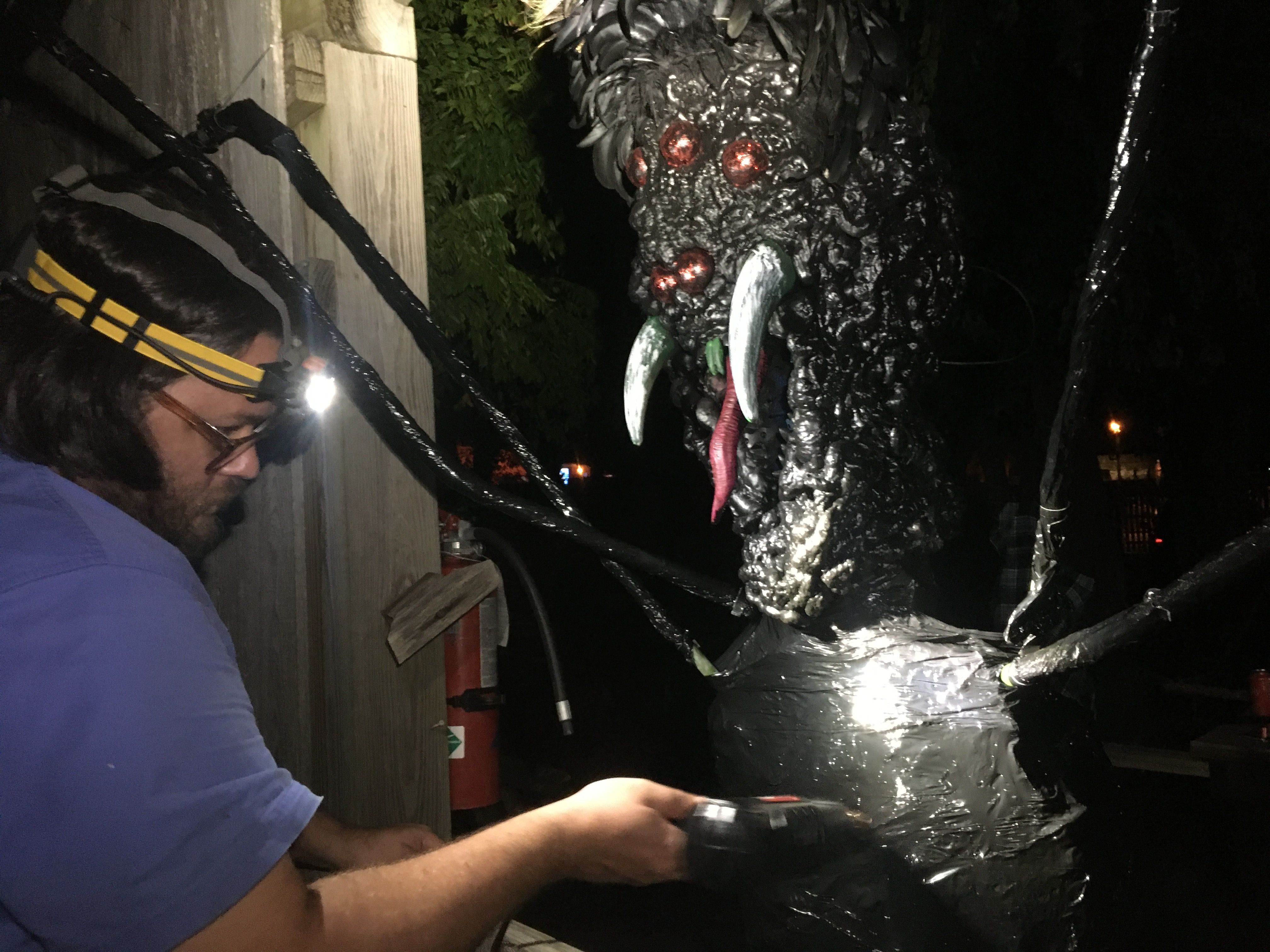 We made all the components in 
our new home workshop,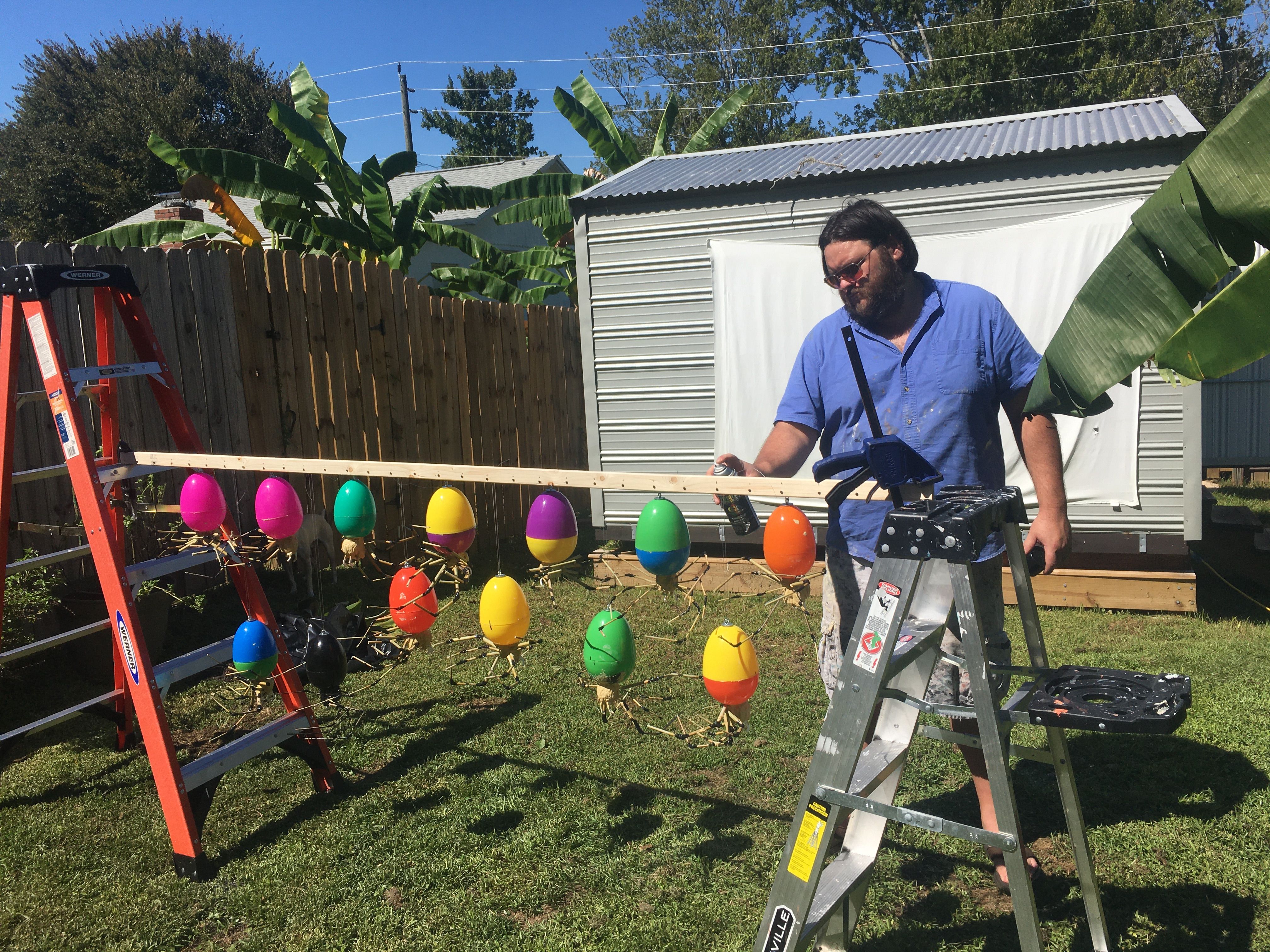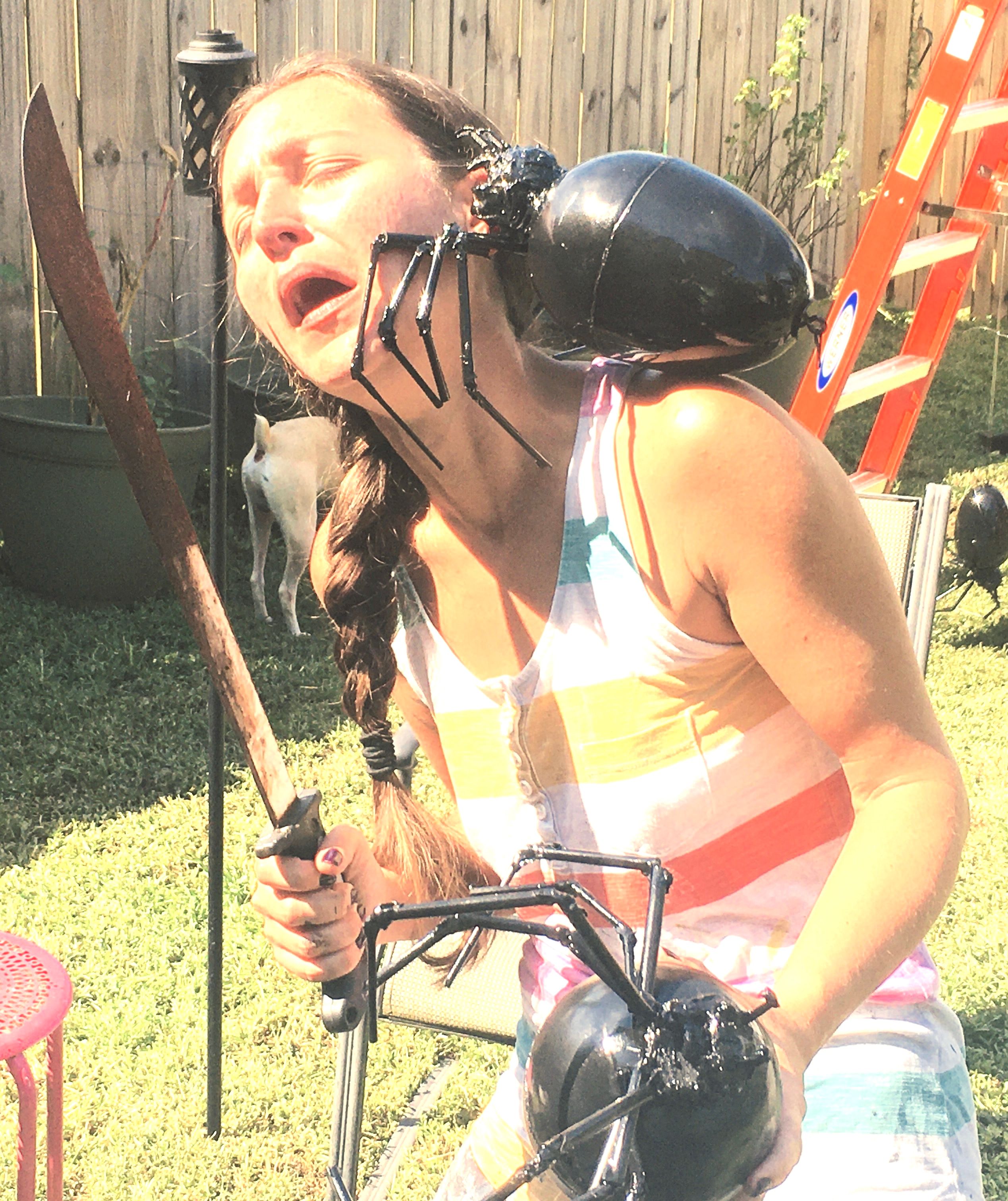 and Mother lived on our back porch 
for a few weeks. . .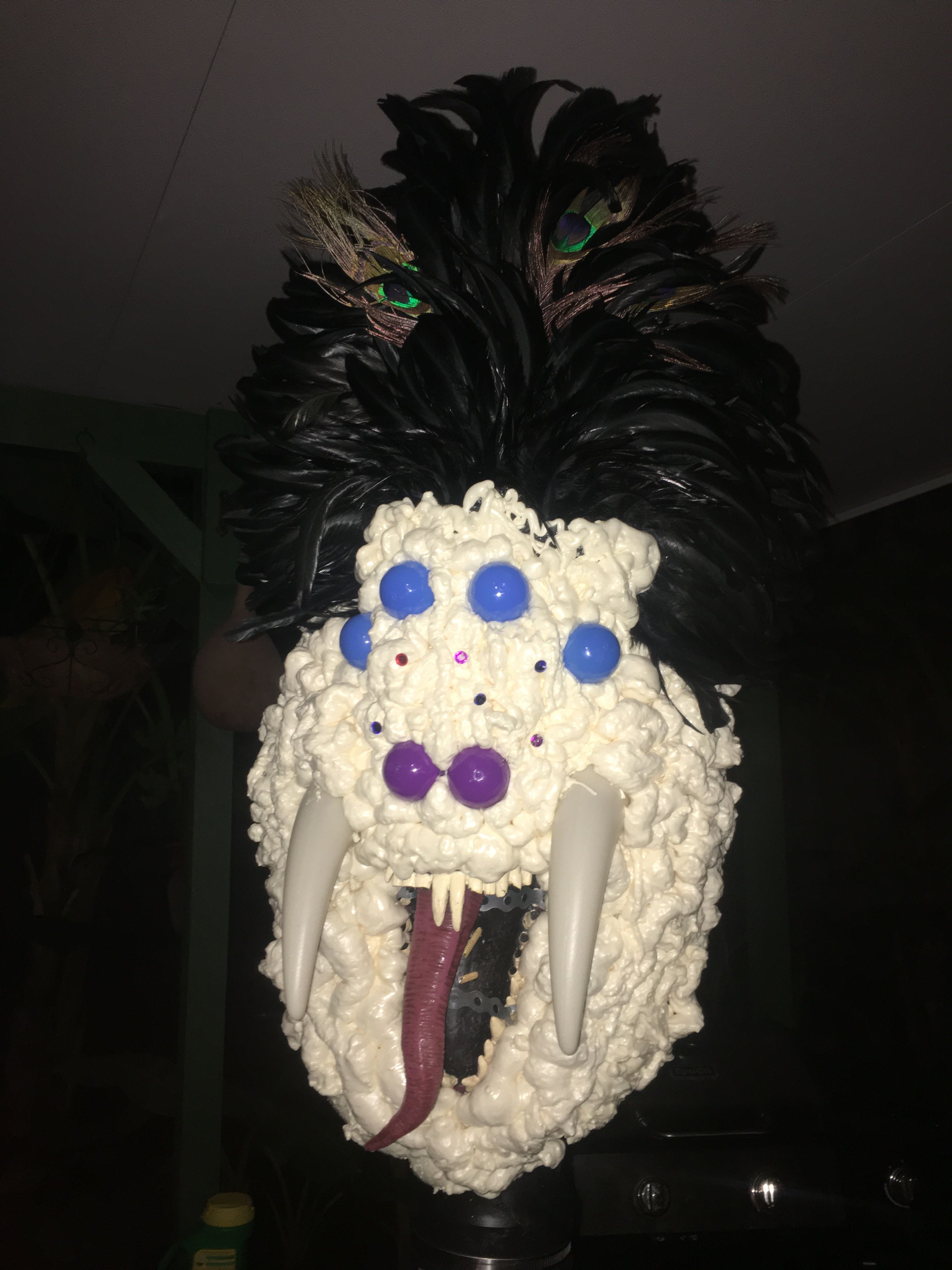 We also got to write our first script together 
and had so much fun rehearsing with the cast!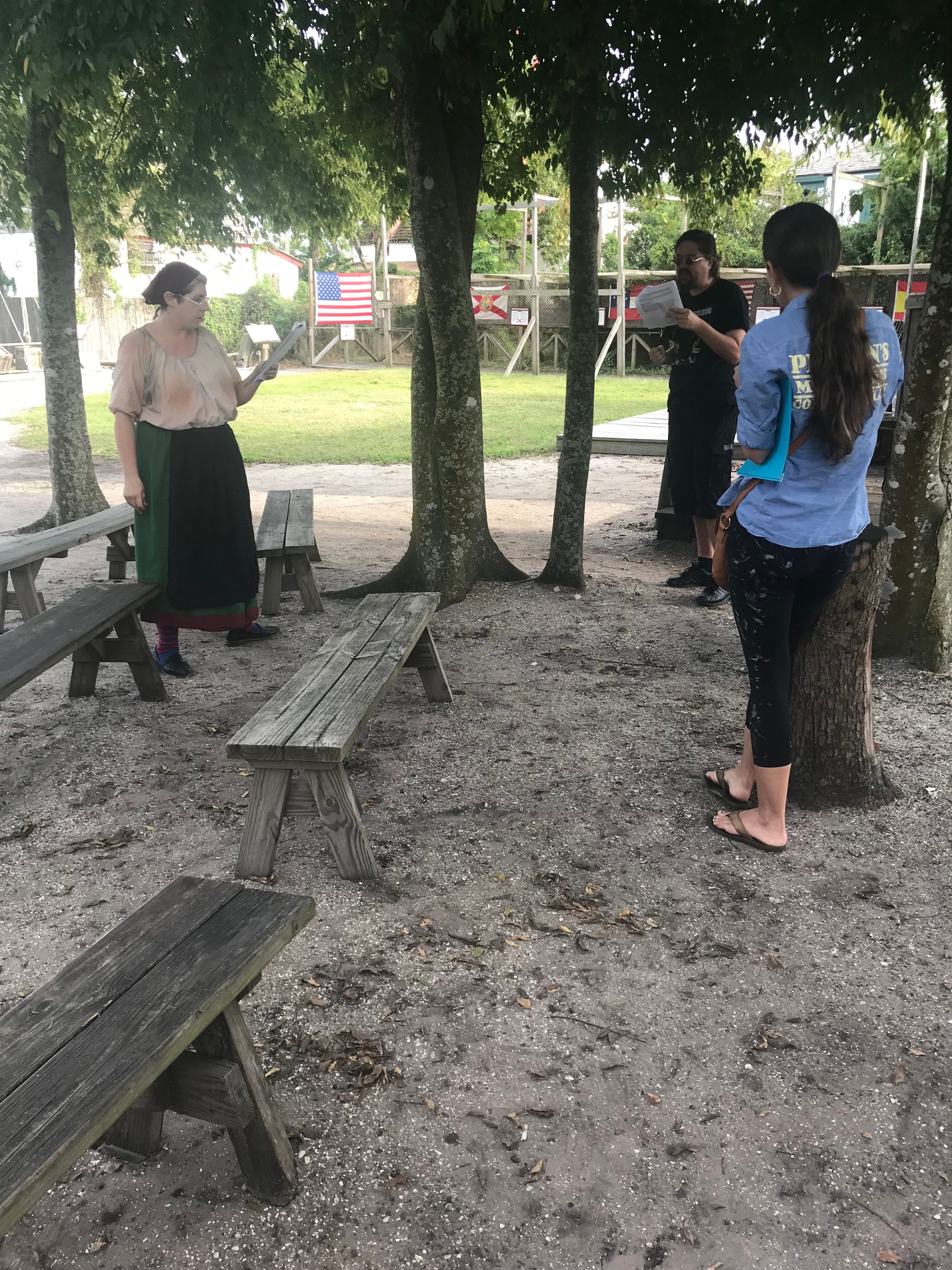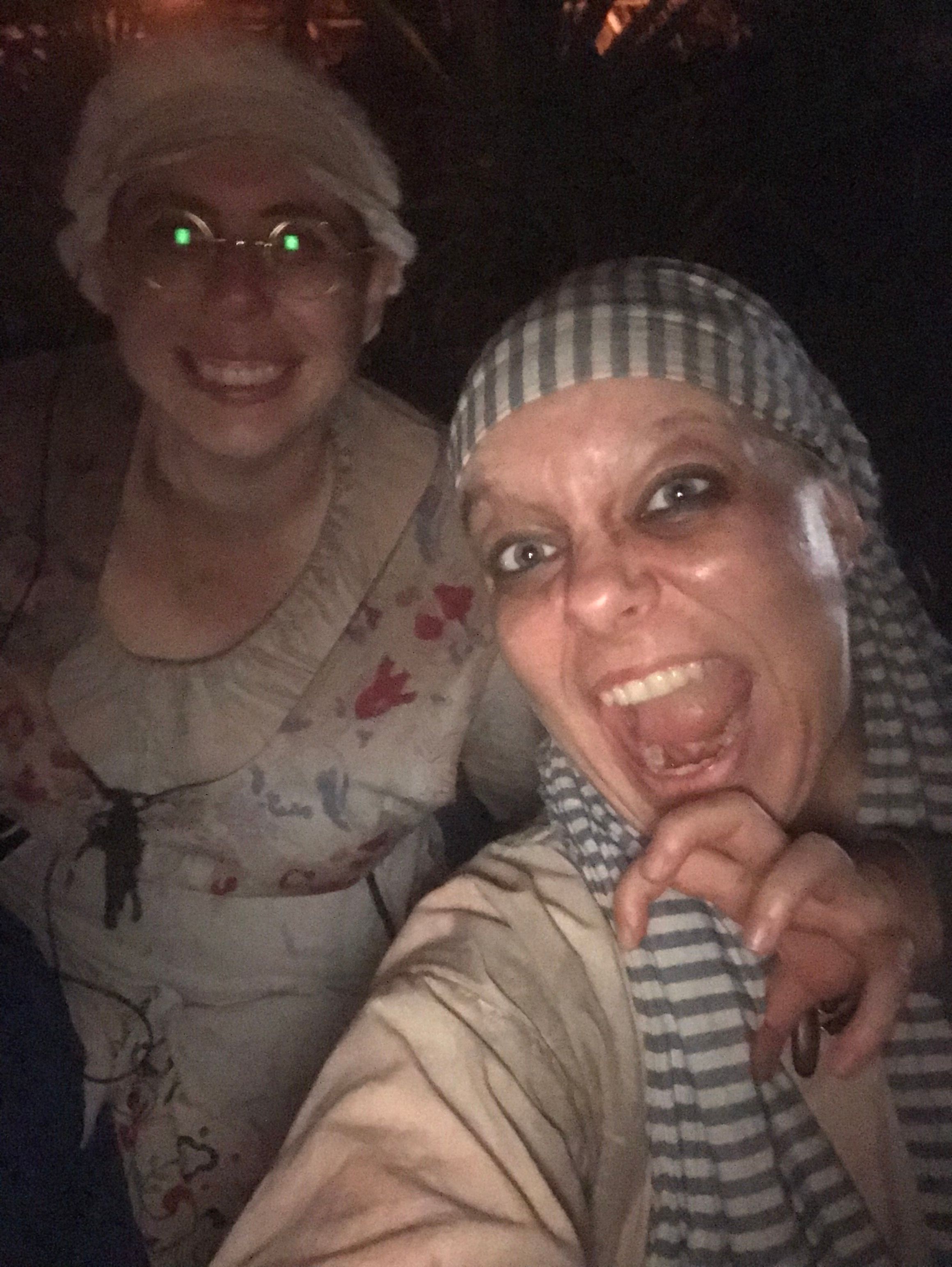 Can't wait for the chance to stage 
more productions at this amazing venue 
in the heart of historic downtown! 
*    *    *    *    * 
Opening night for the haunt was Friday, 
and then Saturday found us 
at James Weldon Johnson Park 
downtown Jacksonville 
to open for Dr. Bacon in full troll regalia!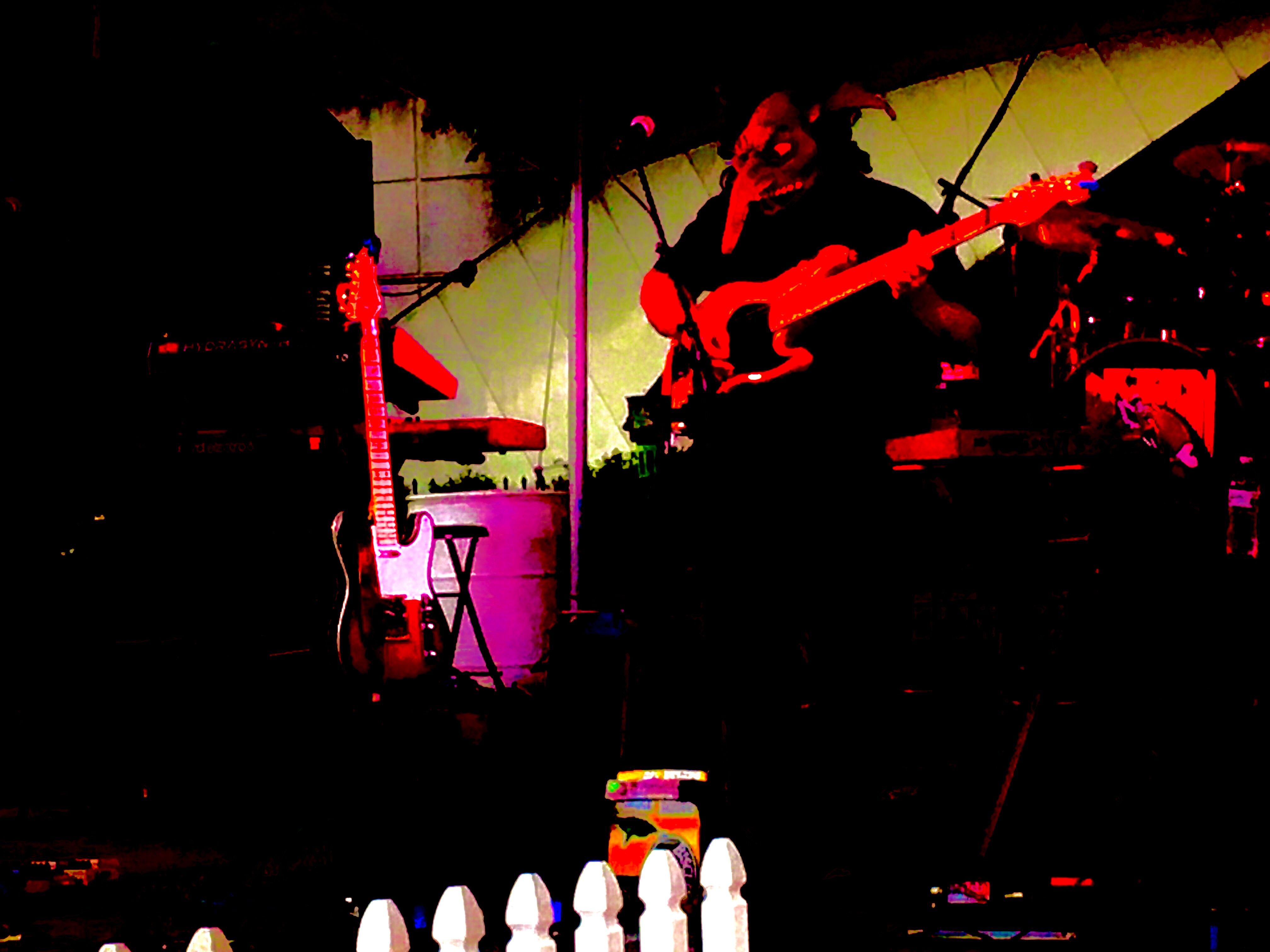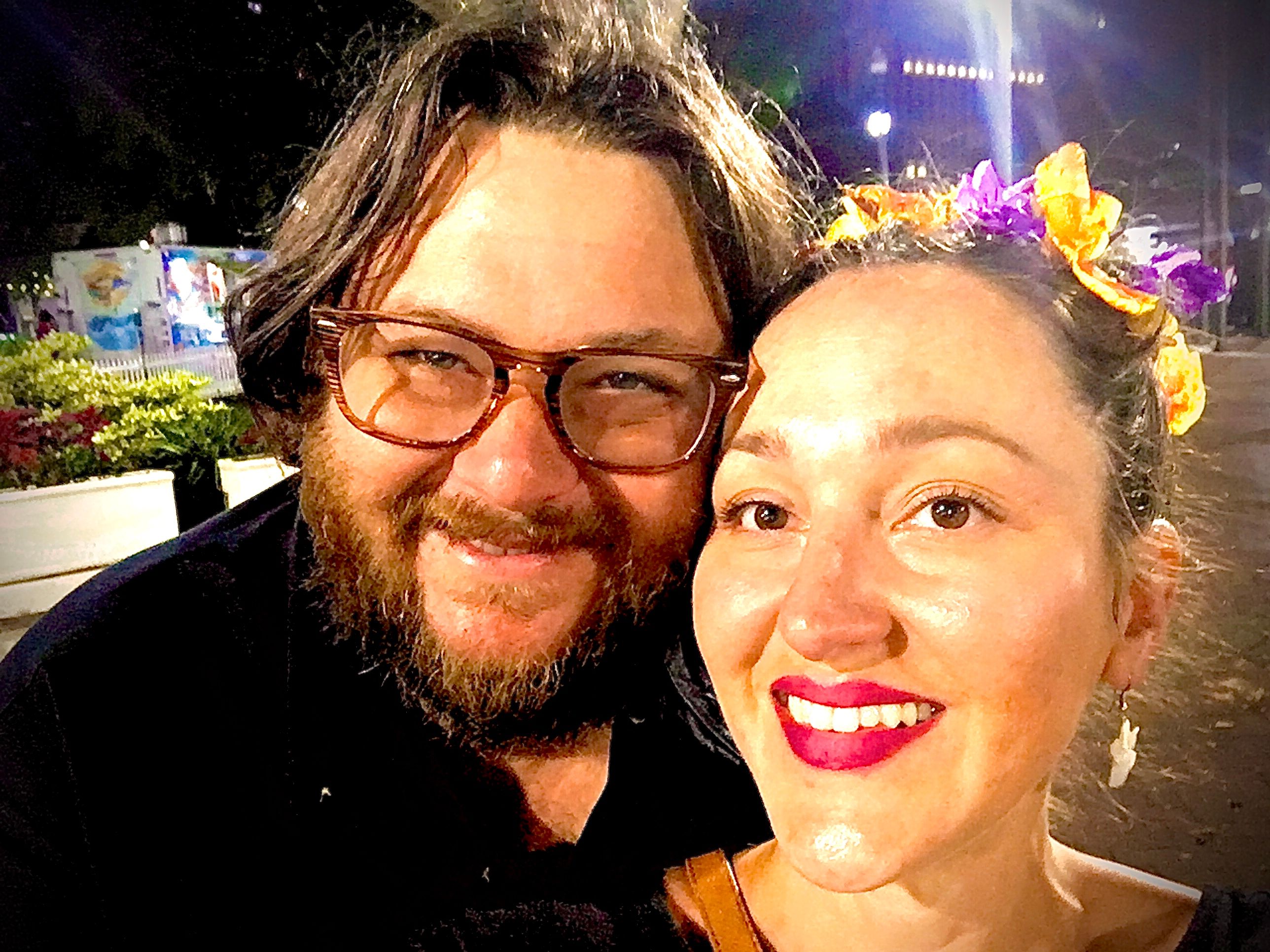 *    *    *    *    * 
Then Sunday, we produced our 
inFESTation! Local Music Resurrection event 
at Colonial Oak Music Park! 
(photo credits: MODzent Photography)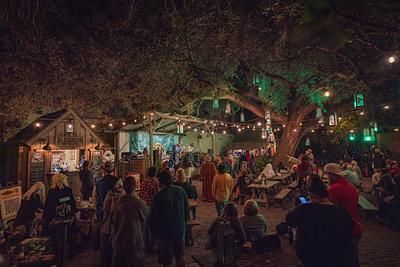 with Bonnie Blue,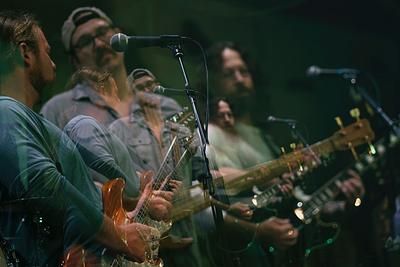 The Space Heaters,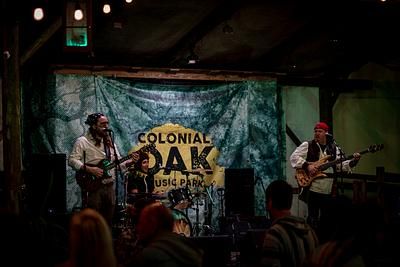 Bryce Alastair Band,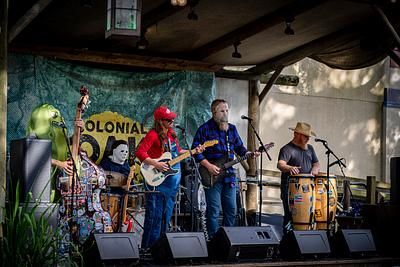 and The Whigs!!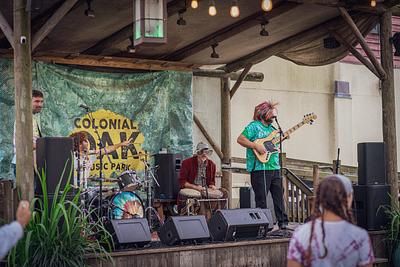 and I got to wear my new tie-dye 
from Sanbro Trippy Tees!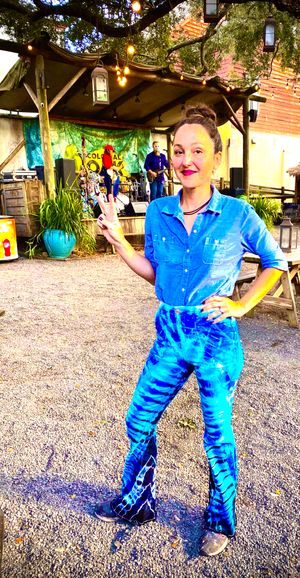 A HUGE thanks to our friends 
the Wileys who have always supported us 
and who teamed up with us to provide 
photography, videography, and hospitality 
 for all of our bands. They're awesome!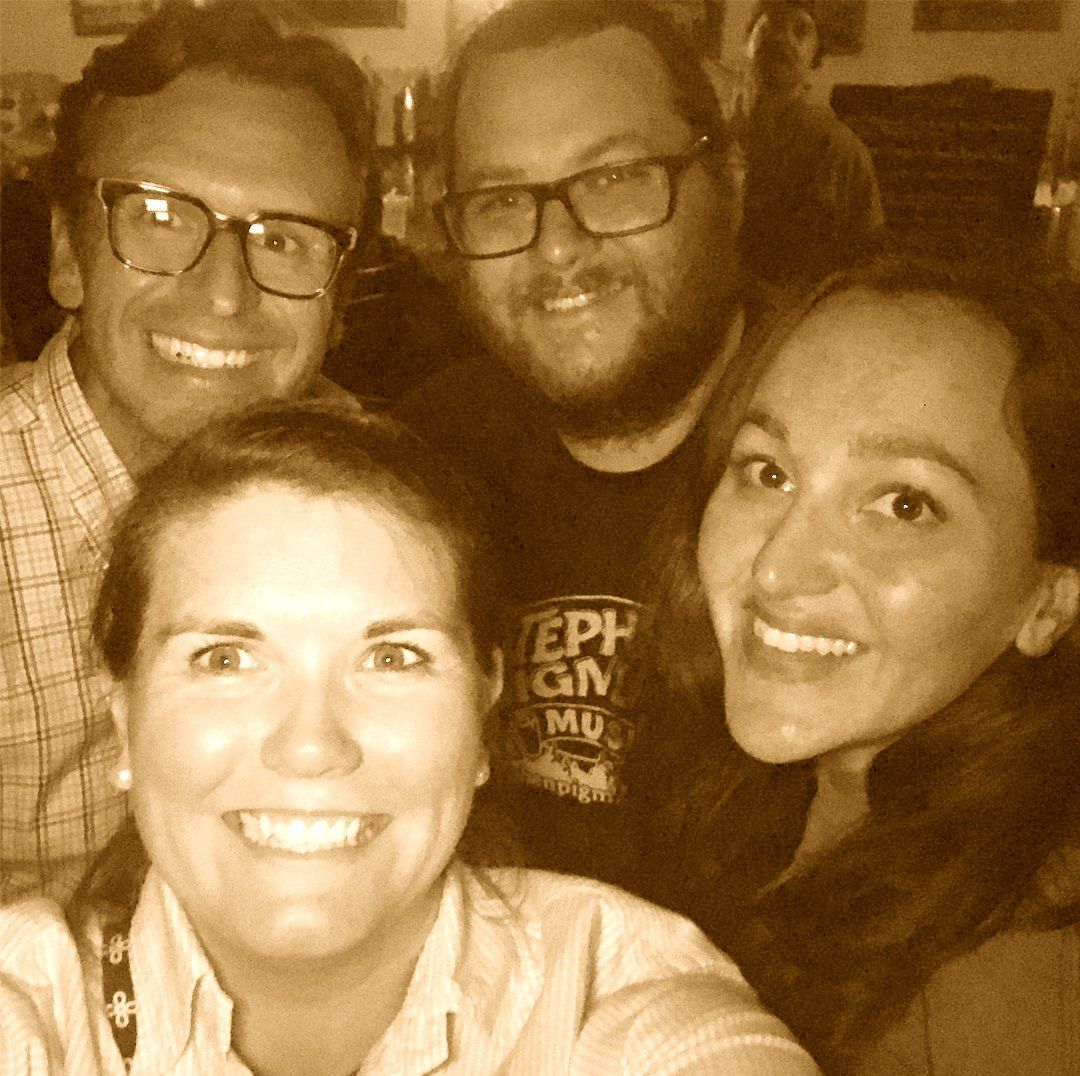 ---
So our holiday season is already crazy, 
and here are some more dates for this year! 
December GIGS 
On the 3rd, we played 
all your Christmas favorites at 
Ocala's First Friday Art Walk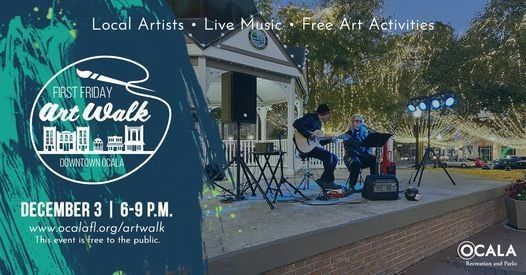 on the 4th 
at Sweet City Cupcakes for the 
Inaugural West King Lighting Ceremony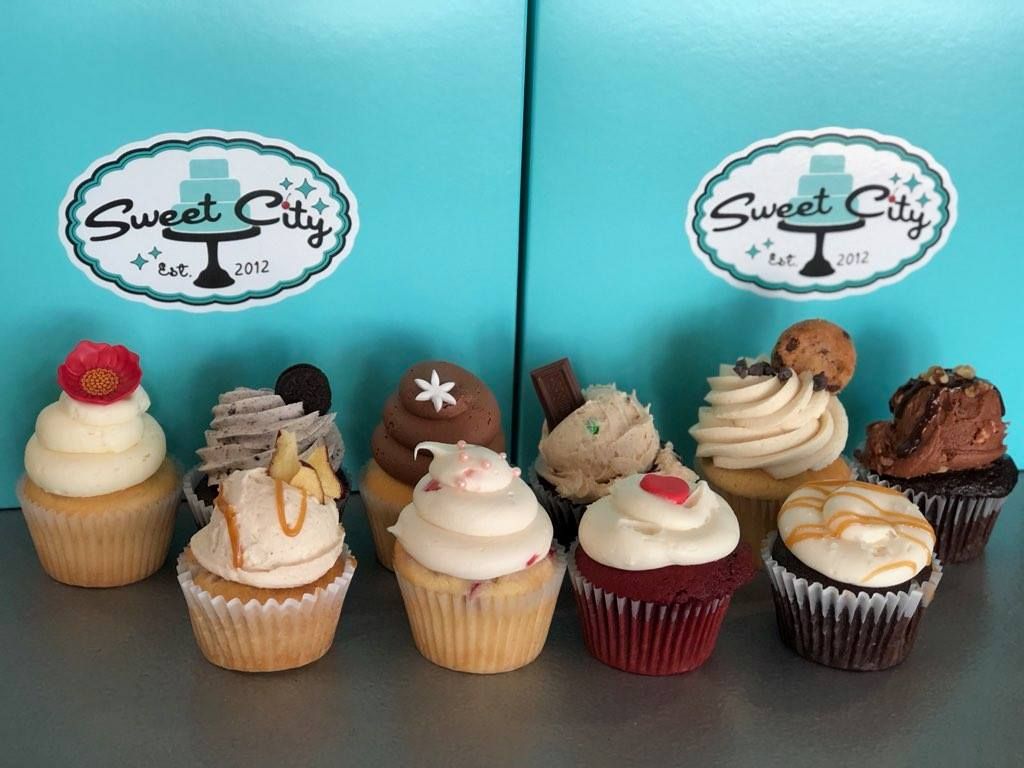 on the 5th 
at Dunedin Brewery 
(Florida's Oldest Microbrewery!)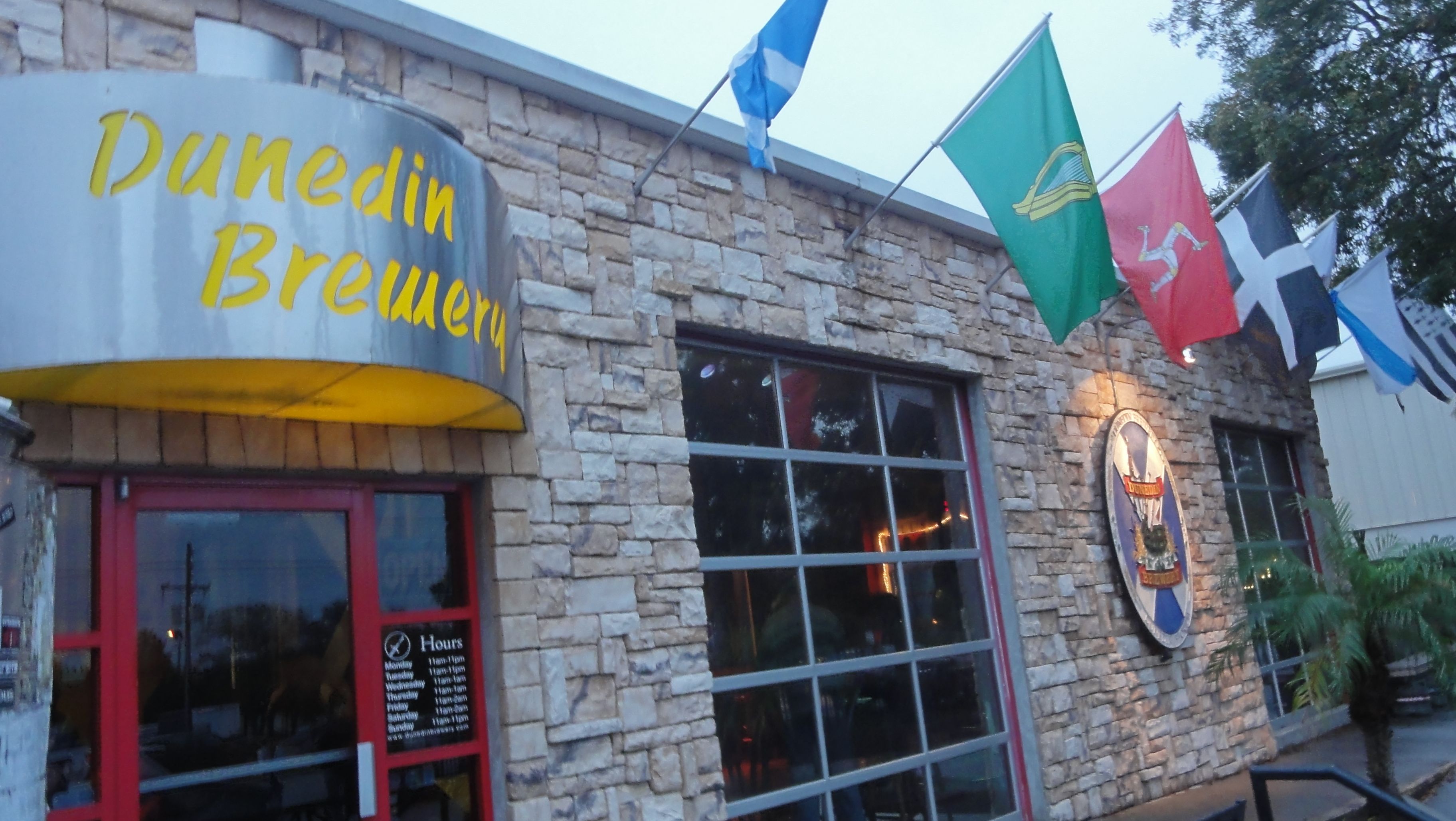 on the 10th 
at Intracoastal Brewing Company 
in Melbourne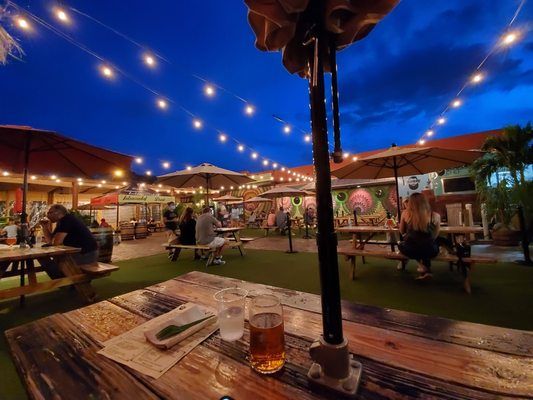 on the 11th 
at Pusser's Bar & Grille 
in Ponte Vedra Beach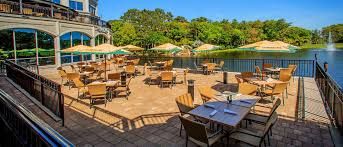 on the 17th 
at Mellow Mushroom (Durbin) 
6 to 9pm; 
then on the 18th  
at Mellow Mushroom (St. Augustine)  
6 to 9pm;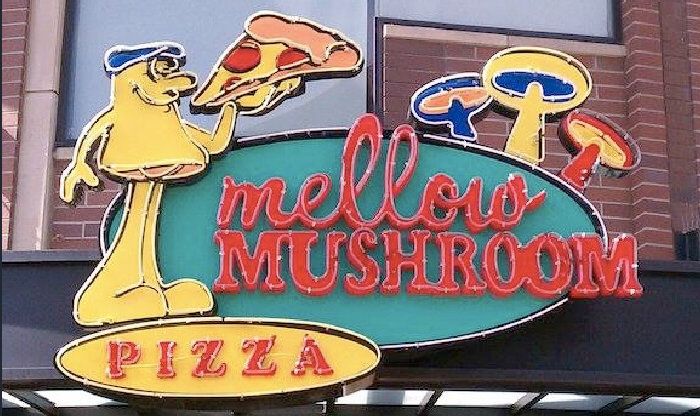 on the 19th 
at New World Brewery in Tampa 
5 to 7pm;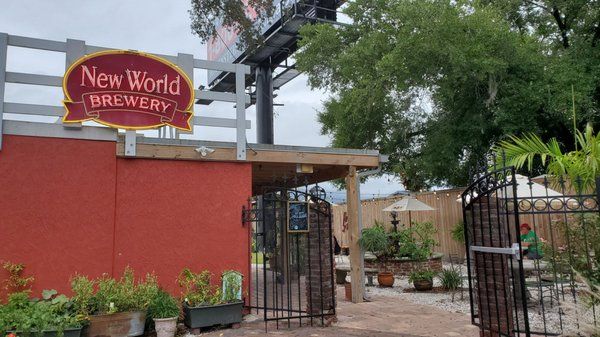 on the 23rd 
at San Sebastian Winery 
1 to 4pm;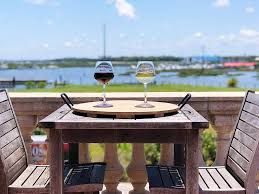 and on Christmas Eve 
at Colonial Oak Music Park 
2 to 4pm;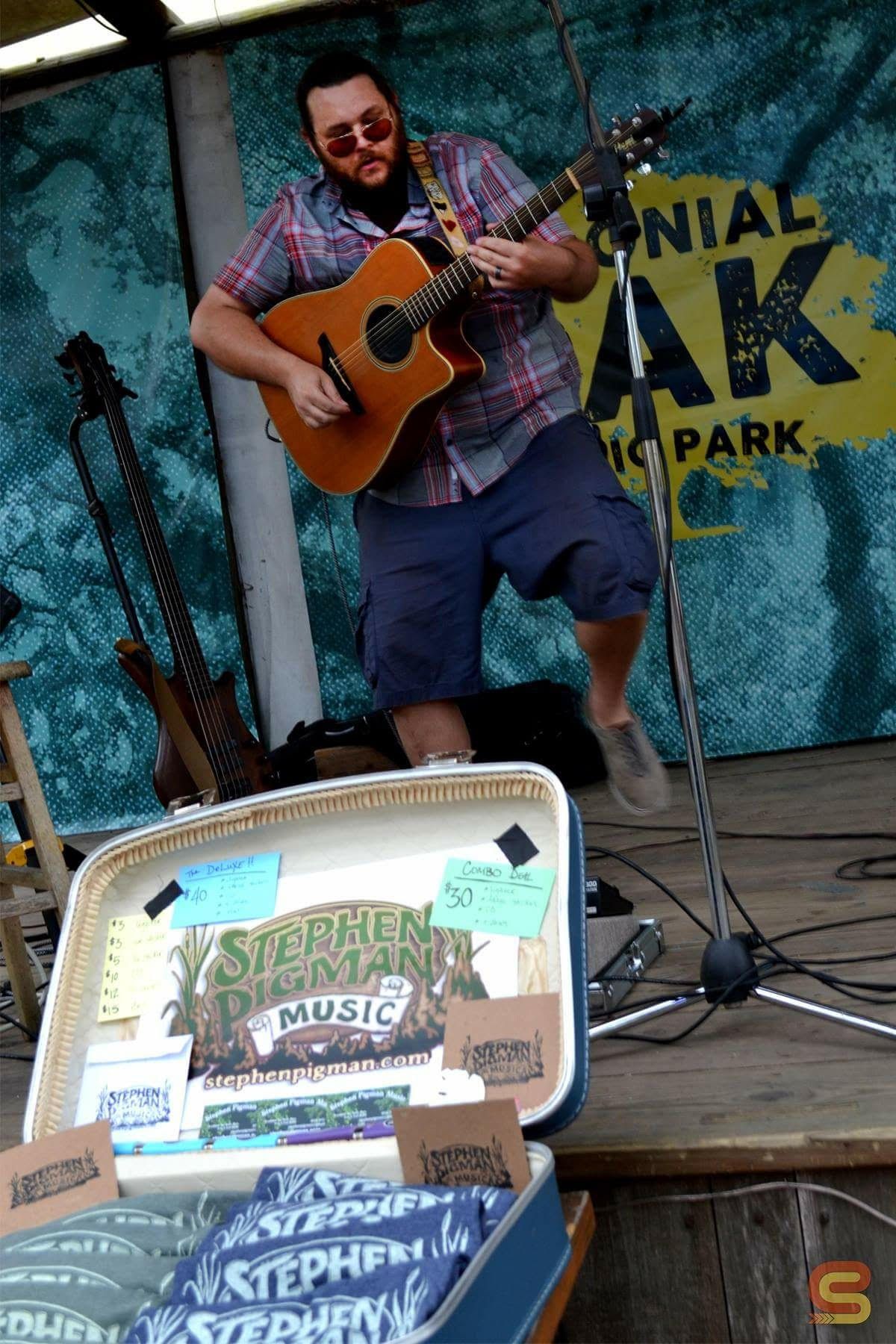 then on the 26th 
we're producing another show at the Oak 
featuring John ParkerUrban & Friends 
from 7 to 10pm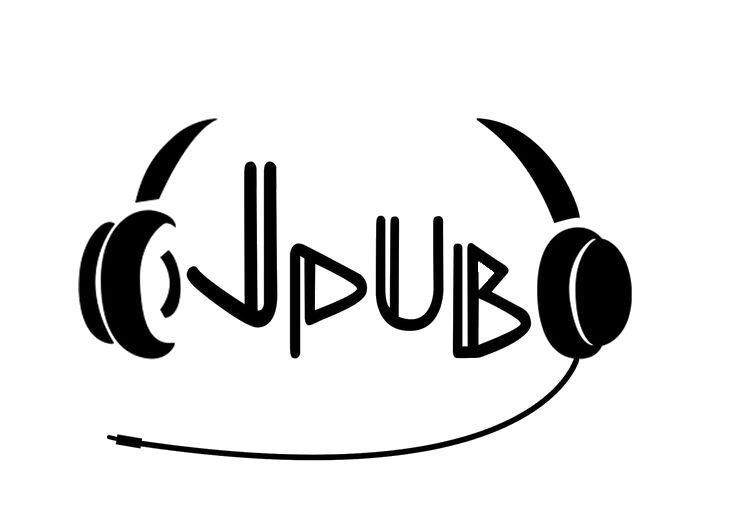 with Colin Kosco opening 4 to 6pm; 
on the 29th 
Stephen will be performing solo 
at Colonial Oak Music Park 
4 to 6pm;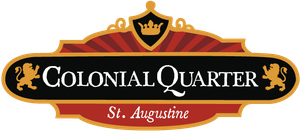 at the Green Turtle Tavern 
in Fernandina Beach 
on the 30th;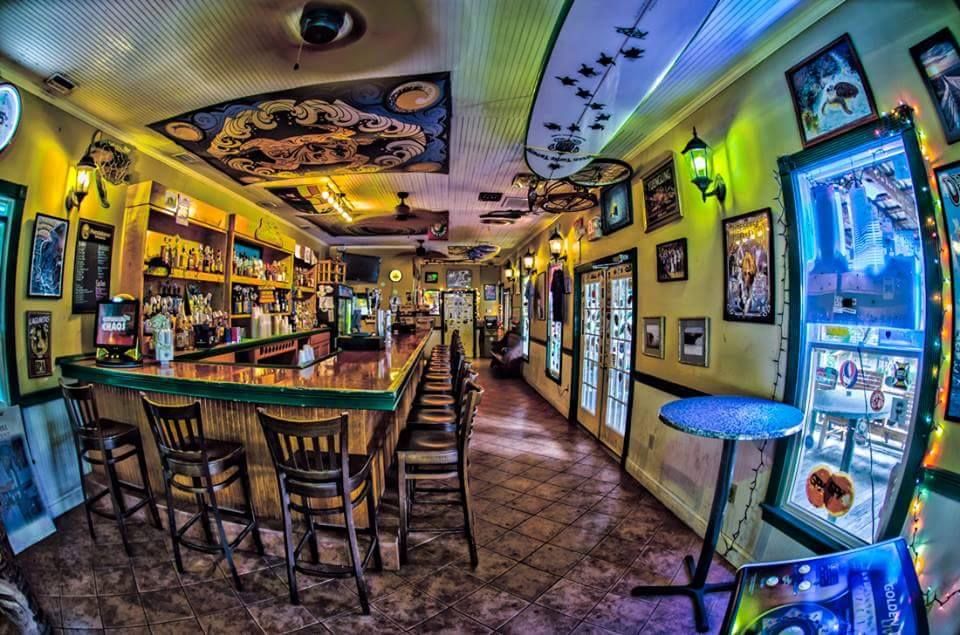 (photo courtesy Amelia Island TDC) 
and finally on 
NEW YEAR'S EVE 
we'll produce another event at 
Colonial Oak Music Park 
with the Chelsey Michelle Band 
from 8 to 11pm 
featuring Anton LaPlume opening 
from 4 to 7pm 
and a ball drop at midnight!!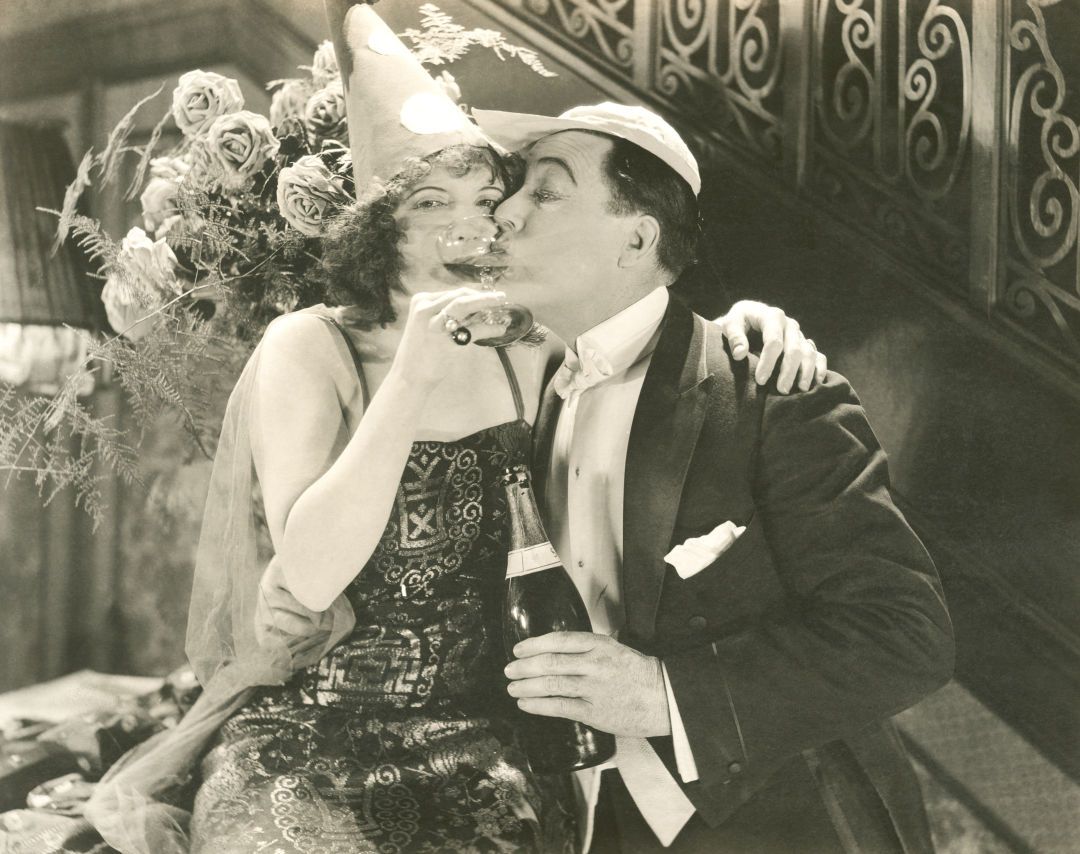 ---
And that's it for 2021! 
     It's been another long, magical, weird year for all 
of us and we're looking forward to 2022 being weird, 
of course, but in a less-threatening way :) 
       We're cleaning house and starting fresh with a 
new outlook, focus, direction, logo & tons of new 
creative content, so lookout for the launch of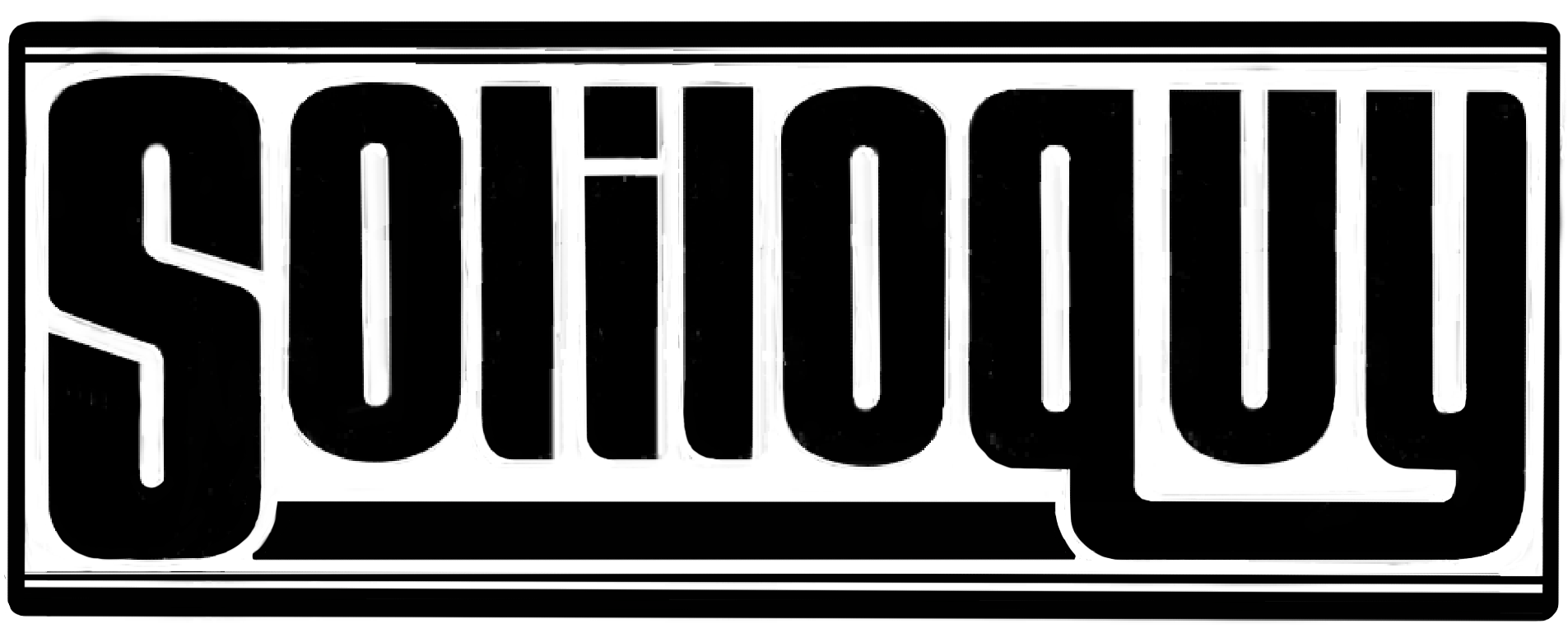 We hope to see you on the road! Rock on!! 
Peace and love, 
Stephen and Jessica